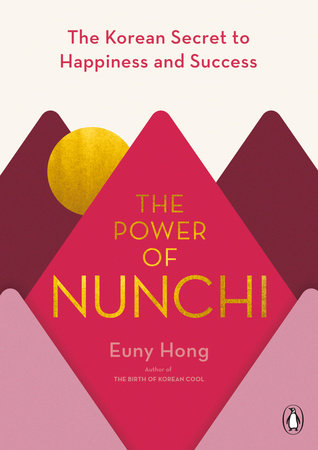 Coming this autumn from Penguin Books: The Power of Nunchi: The Korean Secret to Happiness and Success (US pub date: November 5; UK: September 5), pre-sold in 15 languages
The Birth of Korean Cool: How One Nation Is Conquering the World Through Pop Culture

*Amazon Best of the Month, August 2014 (Amazon.com + Amazon.ca)
*Pop Matters Best Books of 2014: Nonfiction
Now in 7 languages.
Praise for Euny Hong and THE BIRTH OF KOREAN COOL
"Incisive and humorous…an excellent case study of calculated entrepreneurial moxie."
— Mary H.K. Choi, New York Times Book Review
"Fabulously snarky…Hong is perfectly positioned to understand this complex Korean psyche while retaining enough distance (and cynicism) to evaluate it."
—Helen Brown, The Telegraph (UK) 
"Persuasive…amusing…Hong's breezy book is a good place to begin to understand this rising nation."
—The Times of London (UK)
"If you're not fascinated by Korea yet, you damn well should be. The most innovative country on earth deserves a hilarious and poignant account on the order of Euny Hong's The Birth of Korean Cool. Her phat beats got Gangnam Style and then some."
—Gary Shteyngart
"Full of insight and shocking facts, The Birth Of Korean Cool is a hilarious, gutsy, eye-opening account of Korean drive and success. I couldn't put it down. Euny Hong is a force of nature."
—Amy Chua, Yale Law Professor and author of The Triple Package and Battle Hymn of the Tiger Mother
"A kind of memoir of a culture as well as of an individual life, Hong's first nonfiction book  mixes personal memoir with interviews and research to produce a rollicking, delightful, wise-guy story of how both she and her ancestral home became the cultural icons they are today."
—Sara Nelson, An Amazon Best Book of the Month, August 2014
"An insightful book…[Hong's] brief chapter on Korea's han against Japan is both the best and most concise explanation I've read of the two countries' complicated and ancient feud."
—Brendan Greeley, Bloomberg Businessweek
"Euny Hong's new book The Birth of Korean Cool is a sparkling gem that falls into the must-read category… engaging, easy to read and occasionally humorous and light-hearted, it's also a fact-filled investigative study…a superb overview of the Korean pop culture phenomenon…a satisfying and thought-provoking book by a first-rate journalist whose style is irresistible and informative all at once."
—Hans Rollman, Pop Matters – 9 out of 10
"Through Hong's interviews with the nation's biggest influencers, and through her own humorous anecdotes, this fascinating read is an essential for anyone obsessed with South Korea's fast-track to pop-culture dominance."
—Jinnie Lee, Refinery29
"The Birth of Korean Cool is very funny and combines Hong's remembrances of growing up in the poor and fragmented post-war state with her sharp observations on the cultural changes that created this behemoth of an industry…. It's Hong's voice, a funny, smart, often conflicted and witty combination of personal essay and observational journalism, which makes the book unique."
—Clayton Moore, Kirkus Reviews (interview)
"A funny, iconoclastic Korean-American journalist and author turns her skewering lens on her own culture….Hong gives a thoughtful, self-deprecating and sly ….A pleasing mix of Margaret Cho, Sarah Vowell and a pinch of Cory Doctorow."
—Kirkus Reviews (review)
"Being both an outsider and an insider, Hong is the perfect guide to explain South Korean culture."
—Jennifer Hunter, Toronto Star
"A witty chronicle of how pop culture shaped South Korea's meteoric rise from a war-torn nation to a technological giant."
—Seth Berkman, The Forward
"Highly entertaining."
—Isabel Hilton, The Guardian (UK) 
"The rare book that's hilariously funny and also makes you smarter about world economies."
—Jen Doll, NYMag.com's Vulture
Kept: A Comedy of Sex and Manners

Also available in German by Blanvalet
Kept: A Comedy Of Sex And Manners, a work of fiction, was my first published book (Simon & Schuster 2006). It was inspired by Thackeray's Vanity Fair and it's not about me, ffs. At least, the sex part isn't about me. The manners part is.
Kept: A Comedy of Sex and Manners tells the story of Judith Lee, a 26 yr old Korean American Yale grad living in NYC who has been raised to believe she is an aristocrat. Having never learned to make herself likeable or useful, she incurs monstrous debts. Judith´s seedy aunt introduces her to Madame Tartakov, a beautiful, harpyish Russian emigre and former ballerina who faked Jewish ancestry to gain asylum in the US, and who now runs a brothel of high-class courtesans out of her East 62nd street townhouse. She will pay off all of Judith´s debts in exchange for two years of service at said brothel–and she´ll have to tie her tubes. Seems like a stiff price, but how could a snob like Judith possibly resist the opportunity to live with girls descended from the likes of Vlad the Impaler and Ethelred the Unready?
Praise for Euny Hong:
"You'll be laughing from cover to cover"
The New York Daily News
"A surfeit of sitcom-ready charm"–The Village Voice
"Wicked skill… This is [the novel] Vanity Fair's close cousin"–Kirkus, starred review
"It is as smart and clever as it is deliciously entertaining"–Chicago Tribune​
Library Journal:
"This book is an in-house favorite."
Bookpage:
"Luckily for readers she never loses her hilarious edge in this captivating, sophisticated high-society comedy."
advance praise
"Clever, smart and oh so terribly funny, My Blue Blood is
perfect for the beach tote or for sneaking into your
graduate seminar. This is a volume to treasure."—Gary Shteyngart, author of Absurdistan and The Russian Debutante's Handbook
"Hong is the latest must- read female Asian fiction writer. In "Kept," she explores all of the issues that make novels worth reading — sex, class, family, religion — in a smart, fresh, provocative, and very funny way."
-Adi Ignatius, Time magazine, Executive Editor,
"A high-spirited, witty and entertaining tale with an unusually audacious heroine and a dazzlingly global frame of reference."—Margaret Drabble, CBE, editor of the Oxford Companion to Prose and author of The Millstone
"Rich, insightful and wildly entertaining. A wonderfully assured debut."—Helen Walsh, author of Brass.