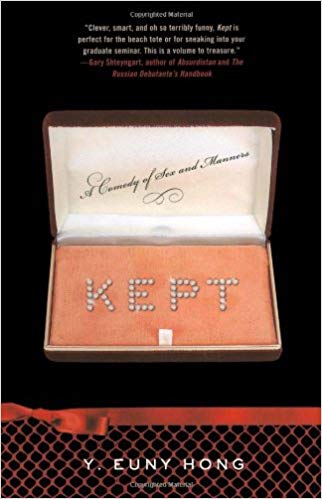 buy it on Amazon
Kept: A Comedy Of Sex And Manners, a work of fiction, was my first published book (Simon & Schuster 2006). It was inspired by Thackeray's Vanity Fair and it's not about me, ffs. At least, the sex part isn't about me. The manners part is.
Buy it at Barnes & Noble or Amazon
Kept: A Comedy of Sex and Manners tells the story of Judith Lee, a 26 yr old Korean American Yale grad living in NYC who has been raised to believe she is an aristocrat. Having never learned to make herself likeable or useful, she incurs monstrous debts. Judith´s seedy aunt introduces her to Madame Tartakov, a beautiful, harpyish Russian emigre and former ballerina who faked Jewish ancestry to gain asylum in the US, and who now runs a brothel of high-class courtesans out of her East 62nd street townhouse. She will pay off all of Judith´s debts in exchange for two years of service at said brothel–and she´ll have to tie her tubes. Seems like a stiff price, but how could a snob like Judith possibly resist the opportunity to live with girls descended from the likes of Vlad the Impaler and Ethelred the Unready?
Praise for Euny Hong:
"You'll be laughing from cover to cover"
The New York Daily News
"A surfeit of sitcom-ready charm"–The Village Voice
"Wicked skill… This is [the novel] Vanity Fair's close cousin"–Kirkus, starred review
"It is as smart and clever as it is deliciously entertaining"–Chicago Tribune​
Library Journal:
"This book is an in-house favorite."
Bookpage:
"Luckily for readers she never loses her hilarious edge in this captivating, sophisticated high-society comedy."
advance praise
"Clever, smart and oh so terribly funny, My Blue Blood is
perfect for the beach tote or for sneaking into your
graduate seminar. This is a volume to treasure."—Gary Shteyngart, author of Absurdistan and The Russian Debutante's Handbook
"Hong is the latest must- read female Asian fiction writer. In "Kept," she explores all of the issues that make novels worth reading — sex, class, family, religion — in a smart, fresh, provocative, and very funny way."
-Adi Ignatius, Time magazine, Executive Editor,
"A high-spirited, witty and entertaining tale with an unusually audacious heroine and a dazzlingly global frame of reference."—Margaret Drabble, CBE, editor of the Oxford Companion to Prose and author of The Millstone
"Rich, insightful and wildly entertaining. A wonderfully assured debut."—Helen Walsh, author of Brass.